Are you looking for the best skateboard helmet money can buy? Then look no further! We've done the research, and we have the scoop on which helmet is right for you.
Whether you're a beginner or an experienced skater, there's something out there that will keep your head protected in style. Keep reading to learn more about our top choices for skateboard helmets.
Skateboard helmets play a crucial role in ensuring the safety and well-being of riders, and their importance cannot be overstated.
With skateboarding being a thrilling and high-energy sport, it is essential to protect the head from potential injuries that can have devastating consequences.
Helmets act as a first line of defense, shielding the skull and brain from impacts and reducing the risk of traumatic brain injuries.
There are various types of skateboard helmets available, each designed to provide specific levels of protection and comfort.
Traditional skate helmets feature a hard outer shell made of durable materials such as ABS or polycarbonate, which can withstand high-impact collisions.
They also incorporate an inner liner made of expanded polystyrene (EPS) foam that absorbs and dissipates the force of impacts, reducing the chance of head injuries.
These helmets often have adjustable straps and padding for a secure and comfortable fit.
Another type of helmet gaining popularity is the MIPS (Multi-Directional Impact Protection System) helmet.
MIPS helmets utilize a low-friction layer between the outer shell and the inner liner, allowing the helmet to rotate slightly upon impact.
This rotational movement helps reduce the rotational forces transmitted to the brain during an accident, providing additional protection against certain types of injuries.
The statistics surrounding skateboard injuries serve as a compelling reminder of the importance of wearing helmets.
According to studies, a significant percentage of skateboard-related injuries involve head trauma, with head injuries accounting for the majority of skateboarder fatalities.
Shockingly, it has been found that the majority of skaters who sustained head injuries were not wearing helmets at the time of the incident.
The absence of a helmet greatly increases the vulnerability of skateboarders to severe head injuries.
Without proper protection, riders are exposed to the risk of skull fractures, concussions, and other traumatic brain injuries. Such injuries can lead to long-term disabilities, cognitive impairments, and even loss of life.
By wearing a helmet, skateboarders significantly reduce the likelihood of these life-altering outcomes and ensure a safer skateboarding experience.
In conclusion, skateboard helmets are of paramount importance for skaters of all levels.
They provide essential protection against head injuries and can potentially save lives. With the availability of different types of helmets, riders have the option to choose the one that suits their needs and preferences.
The statistics clearly demonstrate the significant risk associated with not wearing a helmet while skateboarding.
It is crucial for skaters to prioritize their safety and adopt the habit of wearing helmets every time they step on their boards, promoting a culture of safety within the skateboarding community.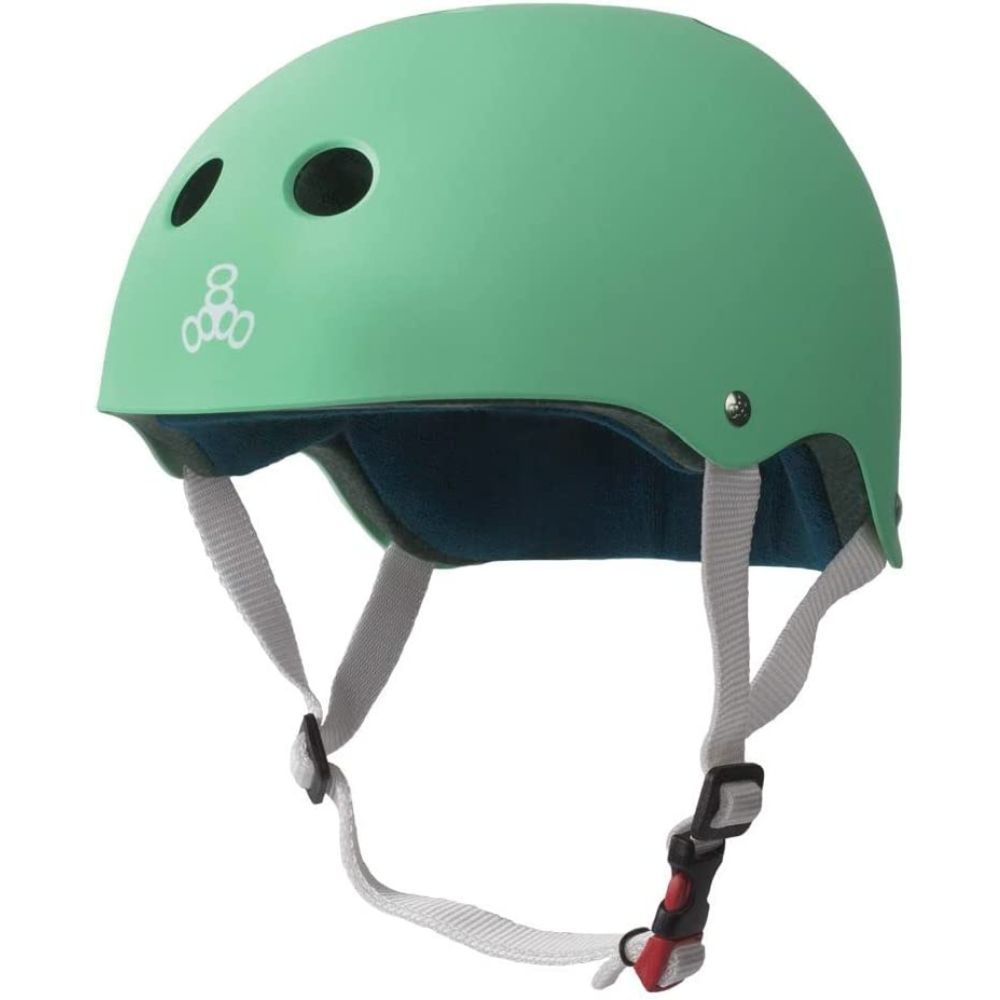 Top Seller
Triple Eight THE Certified Sweatsaver Helmet
Check Price On Amazon!
Triple Eight THE Certified Sweatsaver Helmet

This dual-certified helmet from Triple 8 is one of our top picks because it offers superior protection without compromising on style.
It comes in several colors, including black, navy, and pink. Plus, it has a sleek design that won't look bulky or clunky when wearing it under your hoodie or beanie.
The best part? It meets both ASTM F1492 and EN 1078 certification standards so you know it's built to last.
The outer shell of the helmet is constructed from durable ABS plastic and features two sets of adjustable straps.
It also has a sweat-absorbing terrycloth liner to keep your head cool and dry during hot sessions.
Plus, it's equipped with a soft foam padding for added comfort and protection.
Overall, this helmet is perfect for those who want to stay safe without sacrificing style or comfort.
With its long list of features, it's no wonder why the Triple 8 Certified Sweatsaver Helmet is one of the best skateboard helmets money can buy!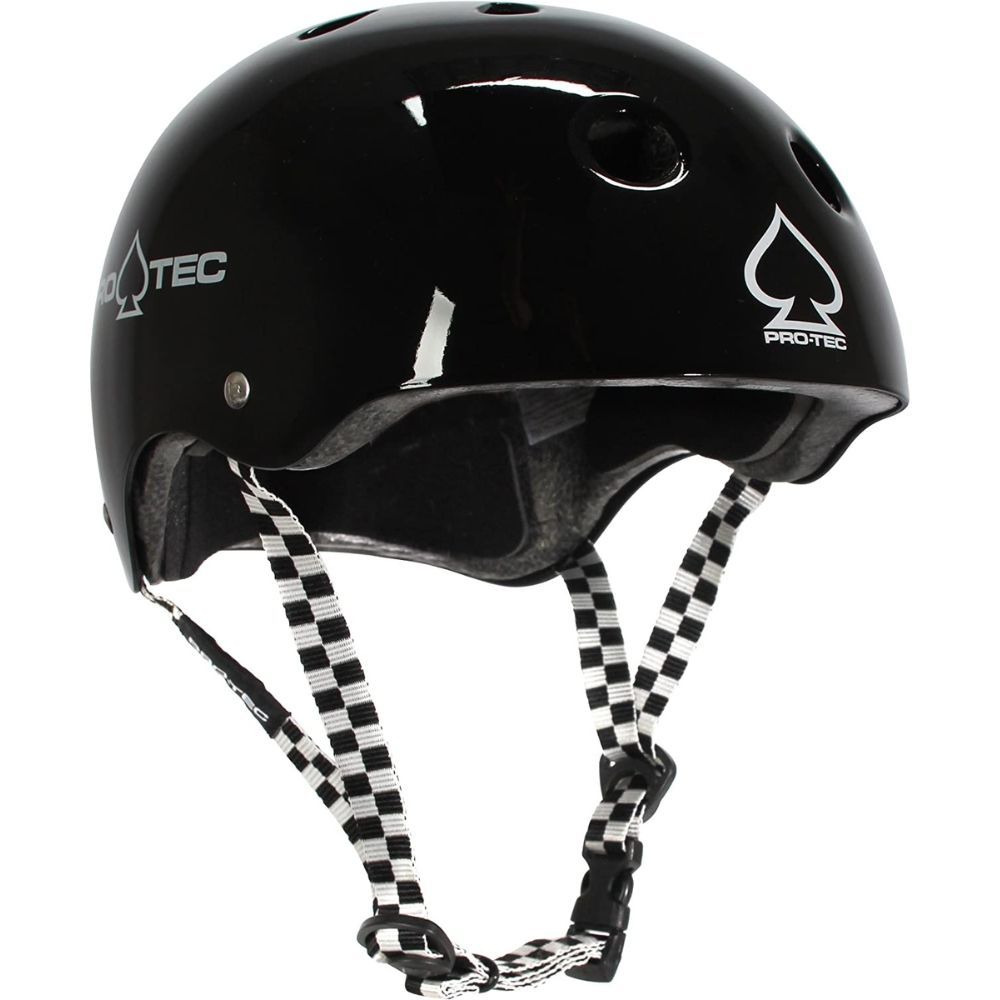 Best Buy
Pro-Tec Classic Certified Skate Helmet
Check Price On Amazon!
Pro-Tec Classic Certified Skate Helmet

If you're looking for a classic look with modern protection, then this Pro-Tec helmet is a perfect choice.
Not only does it meet all safety standards (certified CPSC 1203 and EN 1078), but it also features 11 vents to keep your head cool while skating.
And its classic styling comes in different colorways like white/blue, gray/white, and black/red so you can find the perfect fit for your style.
This helmet is constructed with an EPS foam liner that's designed to absorb impacts and keep your head protected.
It has two adjustable straps for a secure fit, plus a removable visor to shield you from the sun or other elements like rain and snow.
All in all, Pro-Tec Classic Certified Skate Helmet is ideal for skaters who want a reliable piece of safety gear that looks good too.
With its combination of safety, comfort, and style, it's no surprise why this helmet is one of the best purchases money can buy!
No matter which skateboard helmet you choose, make sure it meets all safety requirements before taking to the streets or half pipes!
With these three helmets – Triple 8 Dual Certified Helmet; Pro-Tec Classic Certified Skate Helmet; Critical Cycles Classic Commuter Bike/Skate/Multi-Sport CM-2 Helmet - we guarantee your head will be well protected while still looking stylishly cool!
So go ahead and pick up one of these amazing helmets today and get ready to hit those rails!
Now go out and shred with confidence, knowing your head is safe and secure. Have fun, be safe, and enjoy the ride! Happy skating!
Looking to purchase a set of new skateboard trucks to go with your new board and wheels? Click below to see the top 5 best skateboard trucks!