Golfers, are you looking for comfortable spikeless golf shoes? While hitting the links can be fun and relaxing, improper footwear can cause serious discomfort.
For this reason, it's important to make sure you invest in the best spikeless golf shoe possible – those that will not only keep your feet comfortable but also provide superior traction and agility on the golf course! And without spiked golf shoes, you won't be tearing up the green!
Like running shoes, the best Golf shoes have come a long way from the cleated metal spikes of the past. Today's golfers don't always need metal to get their swing in gear; modern golf shoes look and sometimes even feel like a tennis shoe!
Plus, they provide stability on the course while being much more comfortable—it almost seems too good to be true.
When buying the best spikeless golf shoe, it's important to make sure they fit snugly yet comfortably, as this is essential for optimizing your golf swing.
With the right fit, you can enjoy all the benefits that spikeless shoes have to offer—comfort and improved performance!
So if you've overspent zooming around trying to find the perfect pair of shoes just right for your game, rest assured that we've done all the hard work for you: read on to discover which types of spikeless shoes are currently deemed "the best" by professionals and casual players alike!
How difficult it is to find a pair of golf shoes that are both comfortable and stylish
With the constant choices of golf shoes available, it can feel like a daunting task to find a pair that will not only keep you comfortable but also make you look stylish on the course.
You need to look no further - the best spikeless shoes are here to save your round.
Forget about painful cleats that cut into your feet and cause lasting discomfort - with these shoes you'll stay comfortable all through your game for a winning performance in style.
Why spikeless golf shoes are so great - lightweight, flexible, and have good traction
Golfing means staying on your feet for hours on end - it's no wonder why a good pair of new golf shoes are so important.
Wearing Spikeless shoes are the perfect choice when it comes to finding something lightweight, flexible, and with excellent traction that won't have you dragging your heels or missing a beat.
This hybrid golf shoe has revolutionized the game shepherding in a new era where comfort is key and quality reigns supreme.
Sure the pros may be wearing spikeless shoes, but if you want to keep up without compromising playability (or looking like The Hamburglar)you need spikeless shoes for a better transition from backswing to follow-through!
Six different pairs of spikeless golf shoes. Stylish and comfortable!
Looking for the best spikeless shoes? Well, look no further! Whether you're a pro on the green or an amateur who's just uncovering a newfound passion for golf, there are plenty of spikeless kicks to fit your style and budget.
From classic leather looks to modern training sneakers, we've reviewed 6 different pairs of comfortable golf shoes so you can make the most informed decision.
Let's run through some pros and cons of each option to help you find the perfect pair. So go ahead, and treat yo' feet -with the best spikeless shoes our links have to offer!
Got Shoes? Click below to purchase any of these great shoes!
If you're a serious golfer looking to upgrade your shoe game, then look no further than our collection of spikeless golf shoes.
With excellent cushioning and traction, you'll be able to take on any course with ease as your feet stay snug and secure.
Plus, with a variety of cool colors to choose from, show off your style while dominating the fairway! So don't sit around – get yourself one of these amazing shoes now and start playing golf the way you deserve!
How We Choose
We've read through hundreds of reviews and have compiled a list of the 6 top-selling and best-rated shoes on Amazon!
The tedious research work is all done! You can be assured that any of the shoes below will work for your next round of golf! Just click the "Check Price On Amazon" button!
Adidas men's Tech Response Spikeless
Check Price On Amazon!
Adidas men's Tech Response Spikeless
Why We Love It
It's time to ditch the spikes and upgrade to the ultimate in golf footwear: Best Spikeless Shoes.
Say goodbye to clunky shoes that weigh you down, and hello to 100% synthetic comfort made exclusively for conquering even the toughest of greens. Lightweight and breathable, they'll keep you feeling like a pro at every tee.
Our golf shoes feature a regular fit with a lace closure so you can keep steady on your feet, plus an EVA midsole for soft cushioning on uneven surfaces.
Step up your game with Best Spikeless Shoes - designed for serious (and slightly silly) golfers!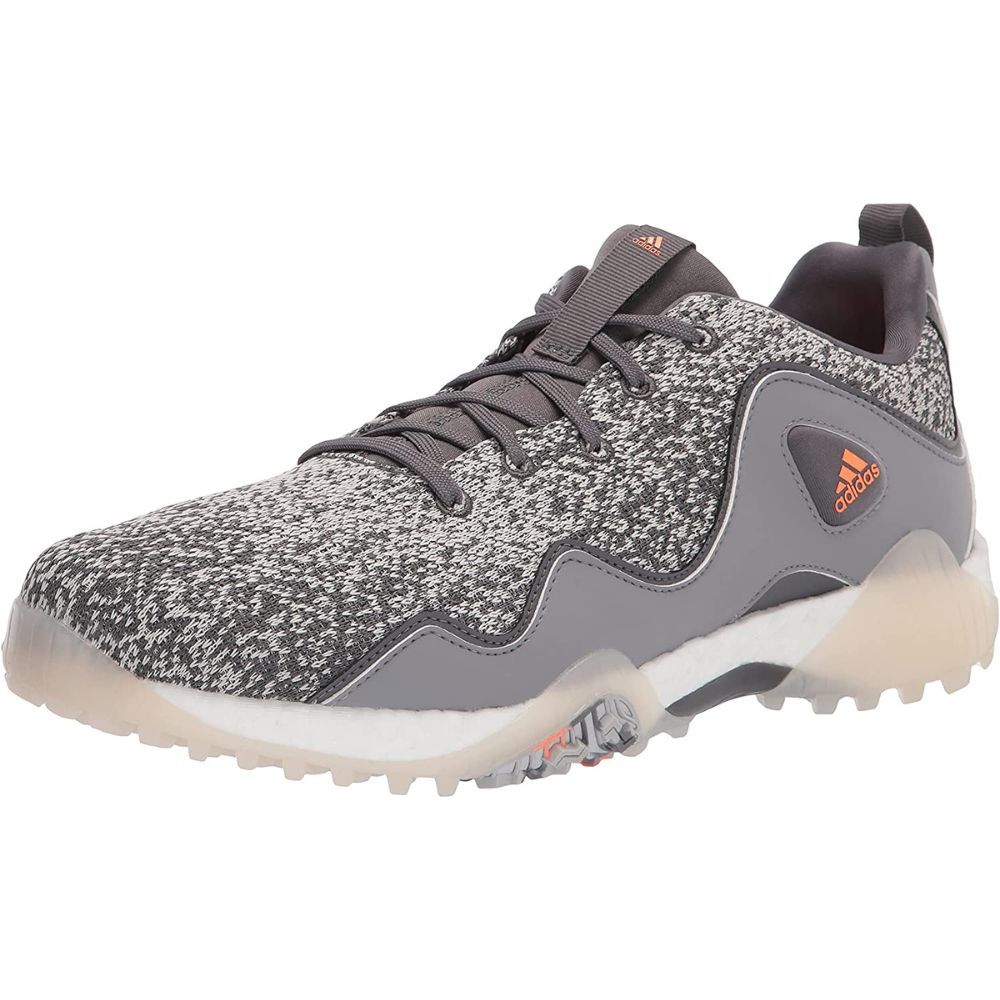 Adidas Men's Codechaos 21 Primeblue Spikeless Golf Shoes
Check Price On Amazon!
Adidas Men's Codechaos 21 Primeblue Spikeless Shoes
Why We Love It
For golfers looking to take the next step on the green, Spikeless Golf Shoes have arrived just in time!
These shoes have a signature knit upper that hugs your feet for maximum comfort, combined with a responsive Boost midsole and a Twistgrip outsole for unbeatable stability through every swing.
Plus, you can feel good about doing your part for the planet- the upper is made with Primeblue, a high-performance recycled material containing at least 50% Parley Ocean Plastic.
So go ahead and hit those drives with confidence! The Best Spikeless Shoes will be your trusty eco-friendly partners in crime as you take that final putt.
PUMA Men's Grip Fusion Sport Golf Shoe
Check Price On Amazon!
PUMA Men's Grip Fusion Sport Golf Shoe
Why We Love It
Hit the links with style and substance in the Grip Fusion Sport Golf Shoe. Perfect for golfers looking to break away from the ordinary, this shoe is as well-equipped as it looks.
A heather mesh forefoot gives off a sporty vibe while providing breathable comfort. The anatomically shaped Grip Comfort last offers more volume to your foot--it'll feel like walking on air!
But feeling great isn't all this shoe has to offer; its fusion foam midsole fuses super soft EVA foam and ultra-responsive rubber, giving you the perfect combination of cushion and bounce.
No matter how far you've got to walk or what kind of turf you have to conquer, the Grip Fusion Sport Golf Shoes are designed to take you there in comfort and style--now that's a match made in heaven.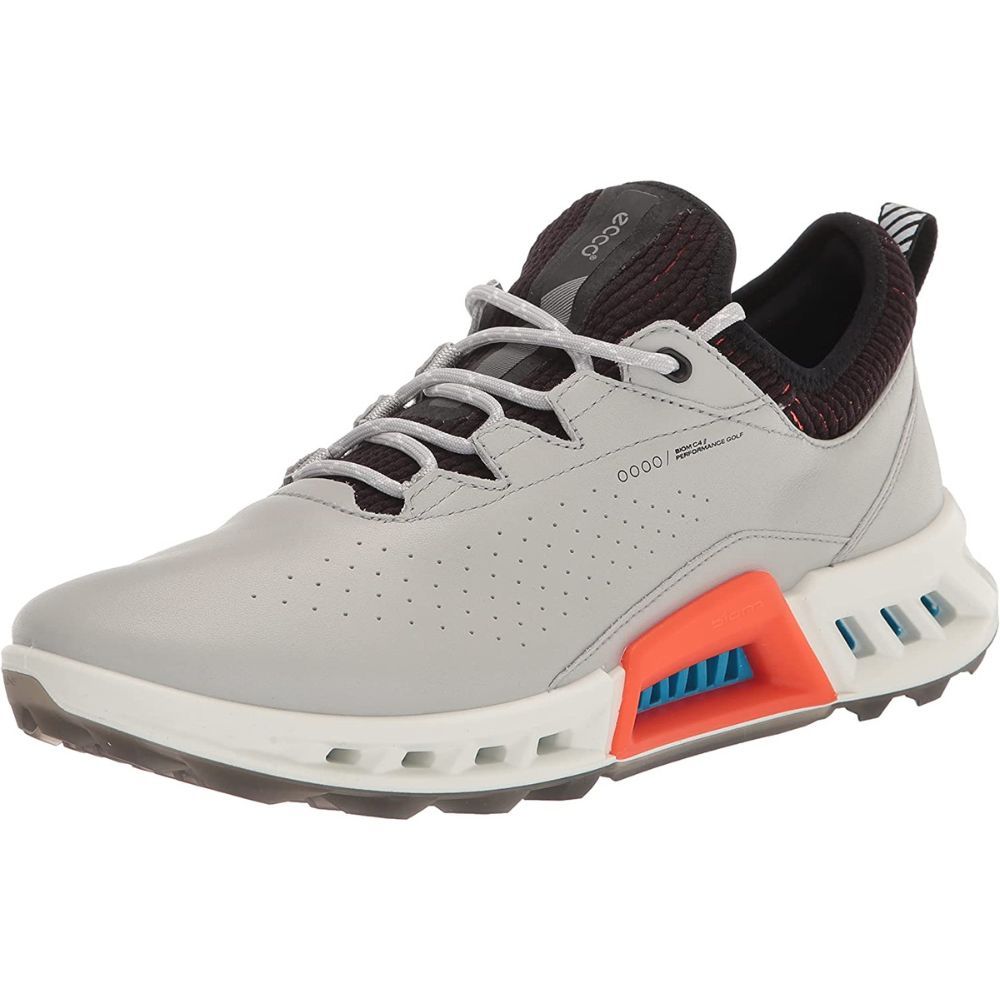 Best Top End Spikeless Shoe
ECCO Men's Biom C4 Gore-tex Waterproof Golf Shoe
Check Price On Amazon!
ECCO Men's Biom C4 Gore-tex Waterproof Golf Shoe
Why We Love It

Golfers – have you been searching for the perfect shoes to master the course? Look no further! ECCO M GOLF BIOM® C4, the next generation of BIOM® COOL PRO, is here with unparalleled breathability and innovative performance all wrapped up in an attractive sneaker-style aesthetic.
And talk about breathability! The GORE-TEX SURROUND® construction and EXHAUST GRID give you 360 degrees of fresh air so your feet can stay cool when other golfers hit heated shots.
But wait - there's more! The shoes are crafted from ECCO Performance Leather and a super stretchy mesh sock – so go ahead, reach for that eagle putt without fear of uncomfortable rubbing or slipping!
Underneath it all, the revolutionary BIOM® NATURAL MOTION Technology paired with the MTN GRIP outsole gives you traction like never before on those twisty courses.
Get out there this season with ECCO M GOLF BIOM® C4 and realize new heights on the green!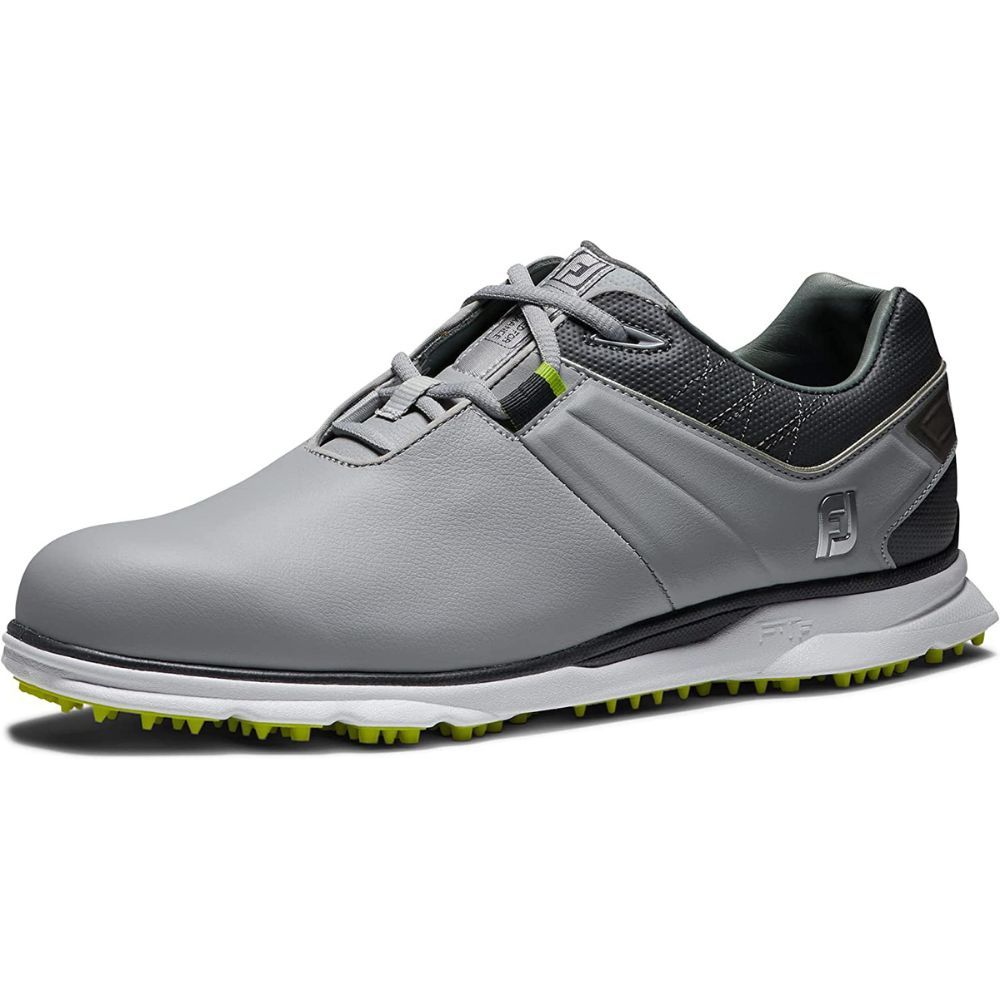 Best Traditional Golf Shoe
FootJoy Men's Pro/Sl Golf Shoes
Check Price On Amazon!
FootJoy Men's Pro/Sl Golf Shoes
Why We Love It

Ready to hit the links? Look no further than Pro/sleeve Men's Golf Shoes! This is the perfect choice for golfers looking to take their golf game to the next level.
Like the Footjoy Flex Golf Shoes, Our unique FTF cushioning and Infinity outsole design provides superior comfort and stability so you can concentrate on crushing your drive.
Plus, Footjoy golf shoes is historically renowned for delivering performance, making these shoes a must-have for pros and amateurs alike.
So don't let a rudimentary shoe ruin your round - invest in Pro/sleeve Men's Golf Shoes today and experience what it means to play like a pro!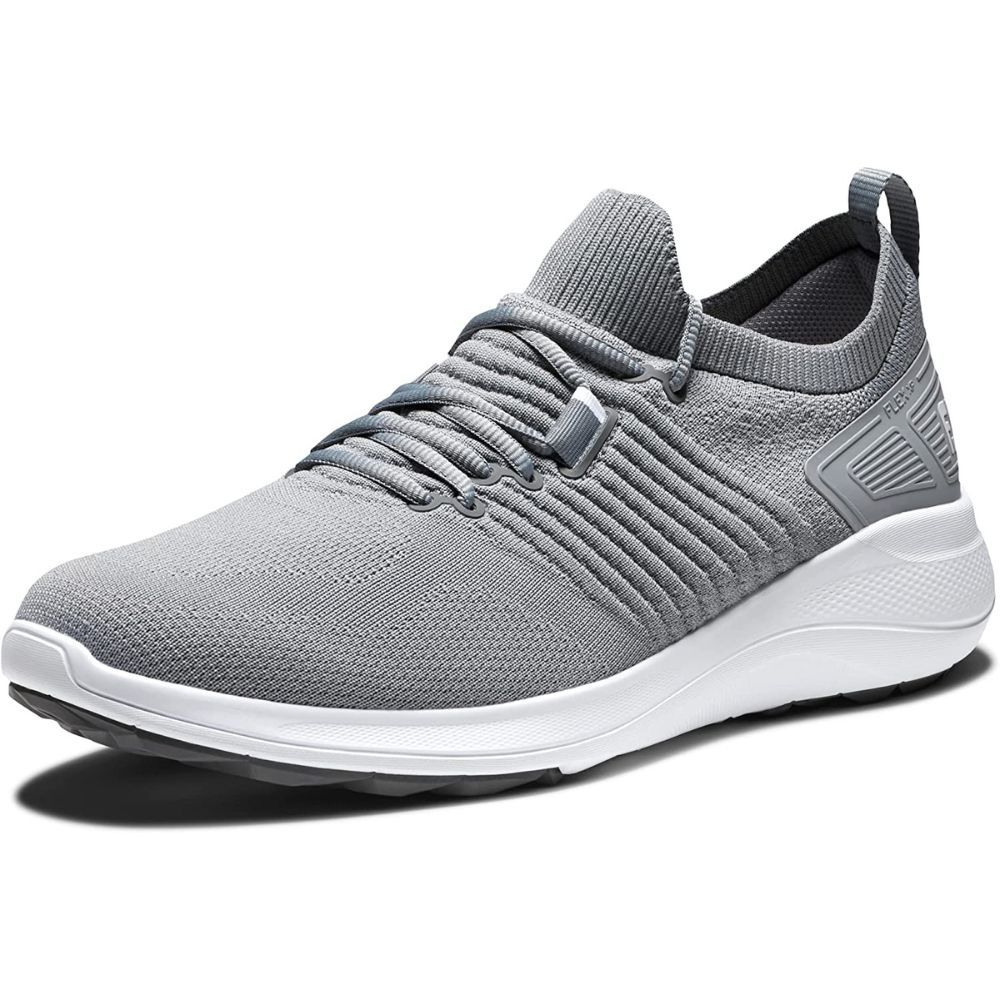 FootJoy Men's Fj Flex Xp Previous Season Style Golf Shoe
Check Price On Amazon!
FootJoy Men's Fj Flex Xp Previous Season Style Golf Shoe
Why We Love It
Introducing the Best Spikeless Shoes: your go-to footwear choice for serious golfers. Now you can ride the fairway with all the comfort and support you need, no matter what Mother Nature throws your way!
Thanks to their 100% synthetic design, these shoes provide incredible breathability – plus, an EVA midsole for cushioning and all-day comfort. And when it comes to stability and traction, these shoes have all bases covered.
The Versa-Trax outsole is specially engineered to give you maximum control during your swing, while still providing great grip on slippery surfaces.
We haven't forgotten about style either - the laser sport fit offers a rounded toe character with a slightly narrow heel. So wherever your round of golf takes you, trust the Best Spikeless Shoes to keep up with you every step of the way!
Some Final Thoughts

Spikeless shoes have unquestionably revolutionized the world of golf, swiftly ascending to become the footwear of choice for both professionals and amateurs alike.
This shift marks a departure from the traditional golf shoes that were once ubiquitous on golf courses.
The surge in popularity of spikeless shoes can be attributed to several key factors, including enhanced comfort, versatile off-course wear, and improved traction technology.
One of the most resounding endorsements for spikeless shoes comes from the professional circuit. Renowned golfers, including some of the sport's greatest champions, have openly embraced these shoes for their comfort and adaptability.
Many top-level players have commented on how spikeless shoes allow them to effortlessly transition from the golf course to casual settings, eliminating the need for a change of footwear.
Moreover, the latest traction innovations in spikeless shoes provide superb grip and stability even in adverse weather conditions, ensuring that golfers can confidently tackle any course.
Amateurs have also enthusiastically adopted these shoes, citing similar benefits.
The overall consensus is that spikeless shoes have not only enhanced on-course performance but also brought a new level of convenience and style to the game, making them an indispensable part of the modern golfer's kit.
Amateurs, too, have found numerous advantages in making the switch to spikeless shoes. The appeal of these shoes extends beyond the course, as they are now regarded as versatile lifestyle footwear.
Golf enthusiasts no longer need to carry an extra pair of shoes for their post-round activities, whether it's enjoying a meal at the clubhouse or running errands around town.
This dual-purpose functionality aligns perfectly with the demands of today's busy lifestyle.
In terms of on-course performance, the spikeless design has earned praise for its adaptability to various playing conditions.
Whether it's a sun-drenched summer round or navigating a soggy fairway in the rain, spikeless shoes maintain a consistent level of grip, ensuring golfers can maintain their confidence and balance throughout their game.
Additionally, these shoes are often constructed with lightweight and breathable materials, providing the comfort necessary for walking the course without feeling fatigued.
Overall, the transition to spikeless shoes has been met with resounding approval across the golfing community, both professional and amateur.
The benefits of comfort, versatility, and enhanced traction have solidified their place as a modern essential in the sport, ushering in a new era of golfing footwear that seamlessly blends style and functionality
Conclusion
The search for the perfect spikeless shoes is of the utmost importance. With so many pairs and brands to choose from, it's hard to discern what's the best fit for your needs.
After comparing and contrasting six standout pairs of golf shoes, hopefully, you were able to gain a better understanding when it comes to finding your dream pair.
With that in mind, it looks like no matter which pair you decide to go with, your feet will be thanking you. So now that we've laid out all the facts, all that's left to do is lace up and hit the green!
If any of these golf shoes piqued your interest then don't hesitate -- click the "Check Price On Amazon" button and grab yourself a pair!
FAQ's
Do any pro golfers wear spikeless golf shoes?
Yes, professional golfers on Tour play with spikeless shoes, though they are still in the minority. Many Tour players still play with spiked golf shoes, so you'll find pro golfers on both ends of the spectrum depending on their preference and their Tour stop that week.
Why do people wear spikeless golf shoes?
Some golfers find spikeless shoes more comfortable for walking or casual wear since they're lighter and there are no spikes to interfere with your balance. Get a grip on the course and plenty of comforts everywhere else with CodeChao's spikeless shoes.
Do spikeless golf shoes make a difference?
So while the traditional way of thinking that spiked shoes mean more traction generally holds up, spikeless shoes are not far behind. The difference in traction does become more pronounced if you play in wet weather. Casual golf shoes without spikes do provide plenty of grip on soggy ground.
Can you wear spikeless at the driving range?
You can wear any athletic shoe to the driving range and be fine. However, wearing golf shoes, either soft spikes or spikeless, will give you a better grip when practicing
Can spikeless be worn casually?
The spikeless design allows you to wear the shoes anywhere while adding some retro flare to your everyday outfit.
Do most golf courses require golf shoes?
Although golf shoes are not a required piece of equipment at most courses, they can have a huge impact on your game. Wearing the proper golf shoes can provide distinct advantages for both amateur and professional players.
Are spikeless golf shoes for summer?
What many golfers opt for are spiked golf shoes for winter and spikeless in summer. If you can only afford one pair, look for a spikeless shoe with a decent amount of corrugation or ribbing on the sole, especially toward the heel. And unlike spiked golf shoes, you'll save the greens from being torn up!